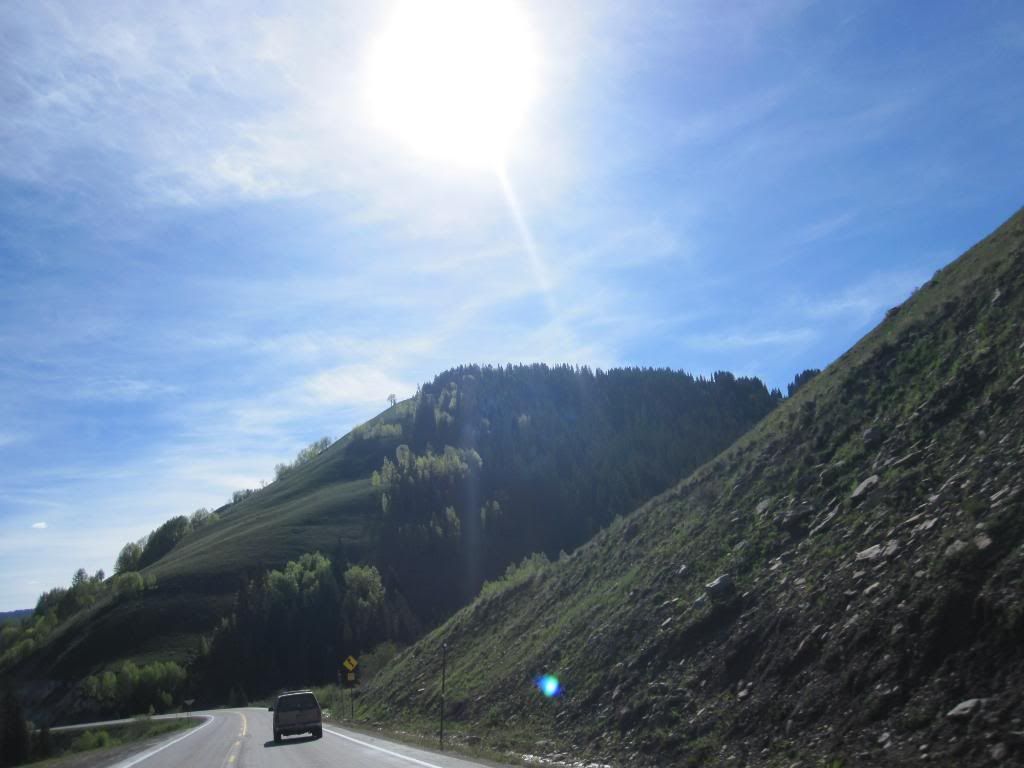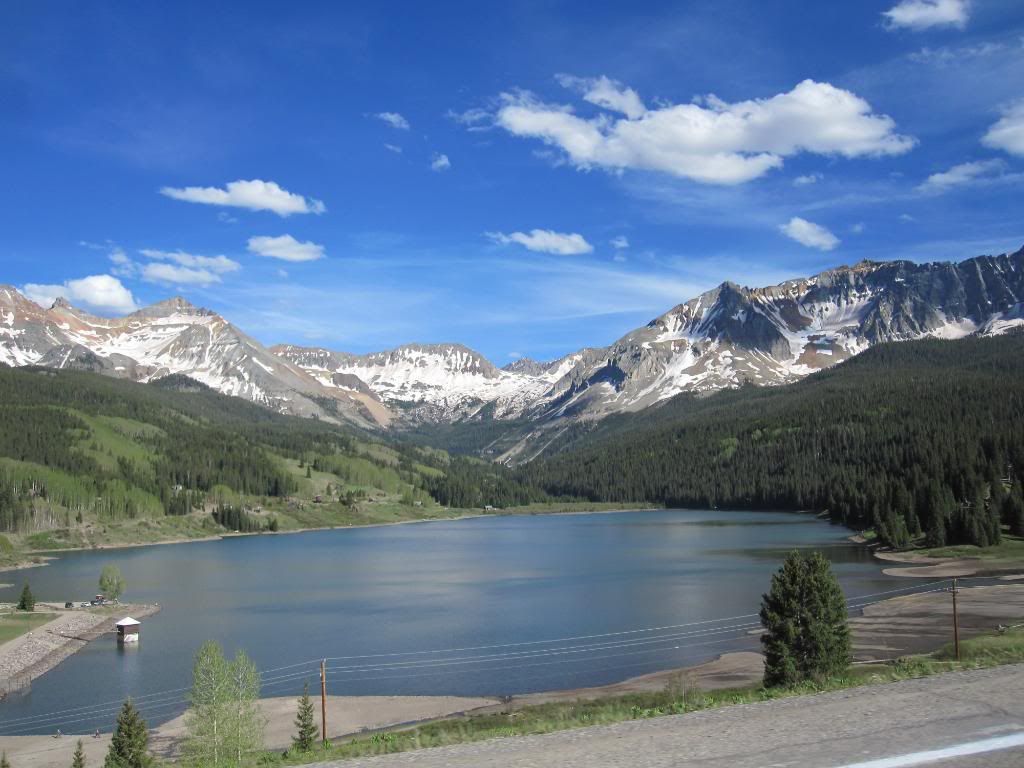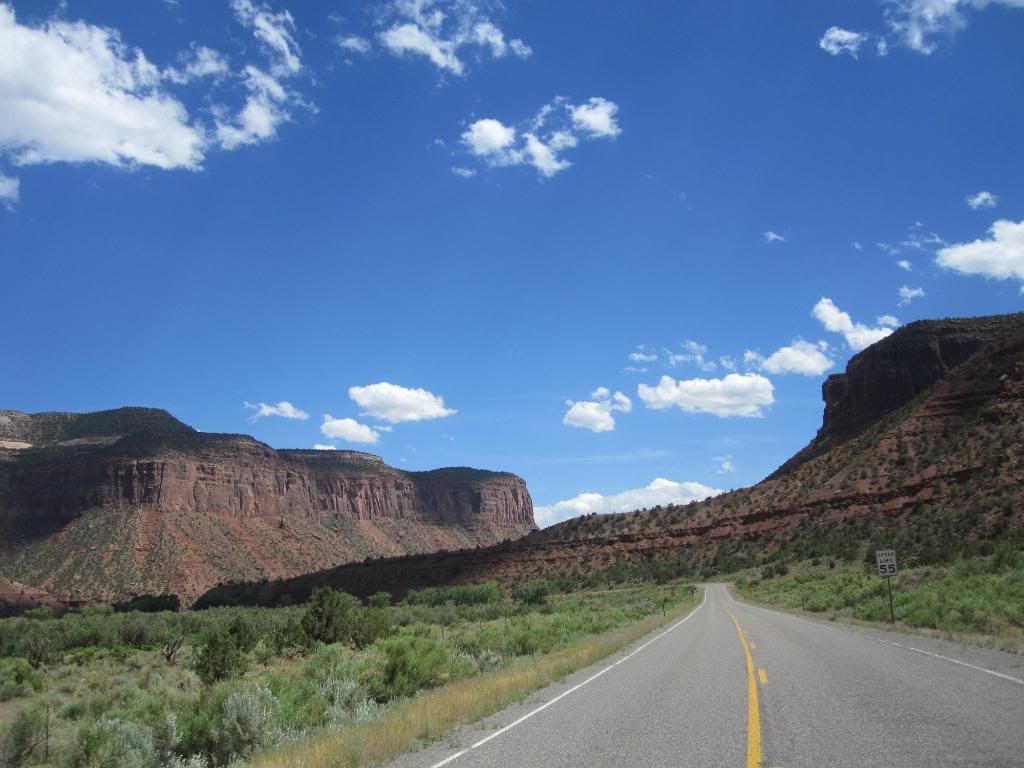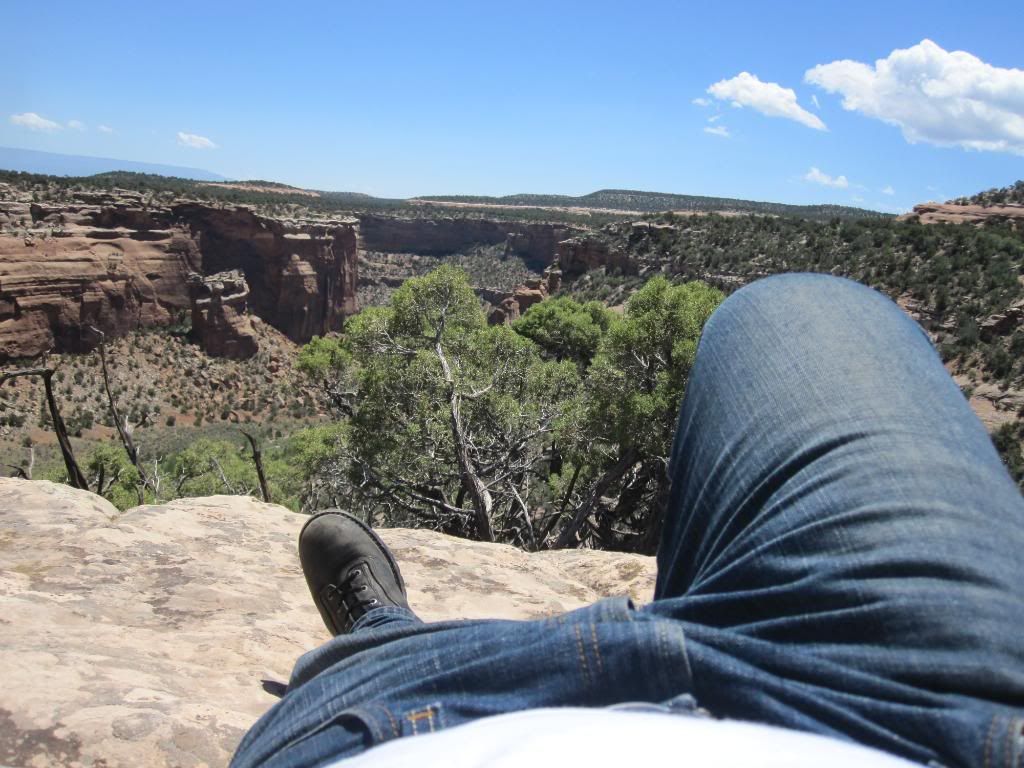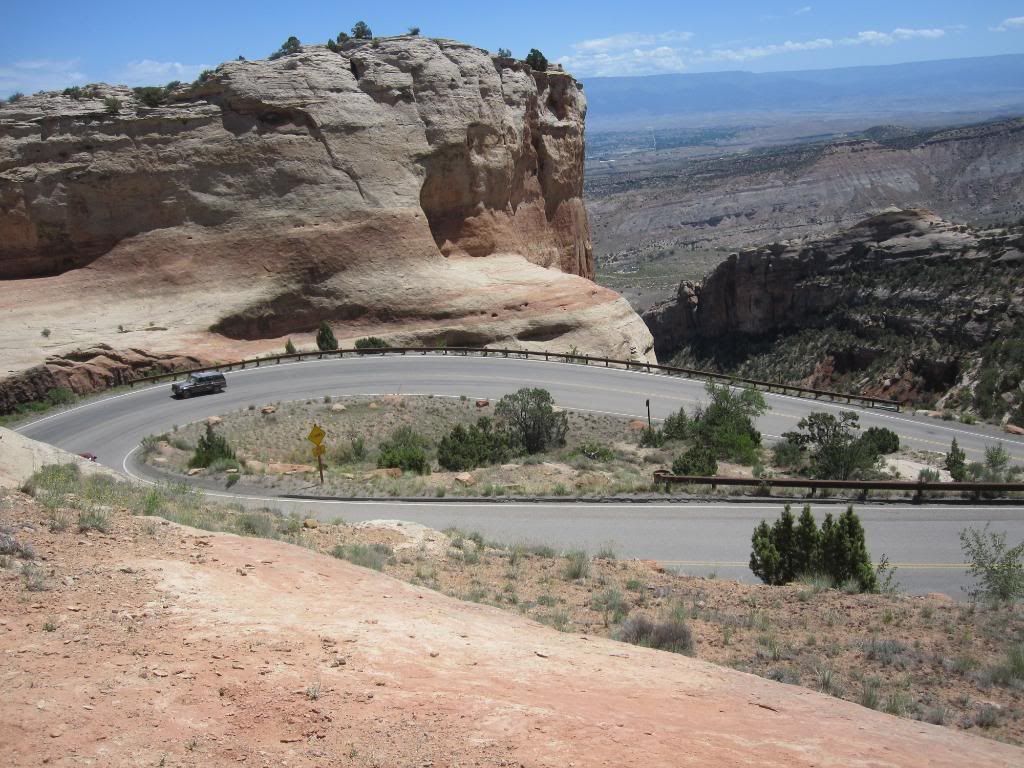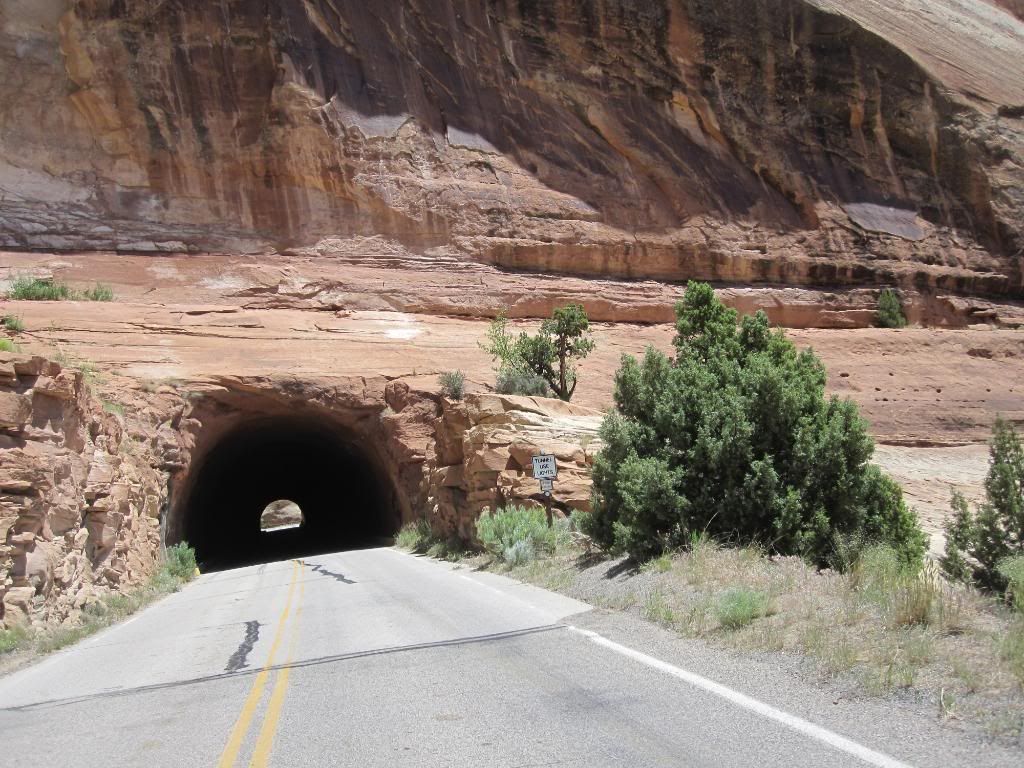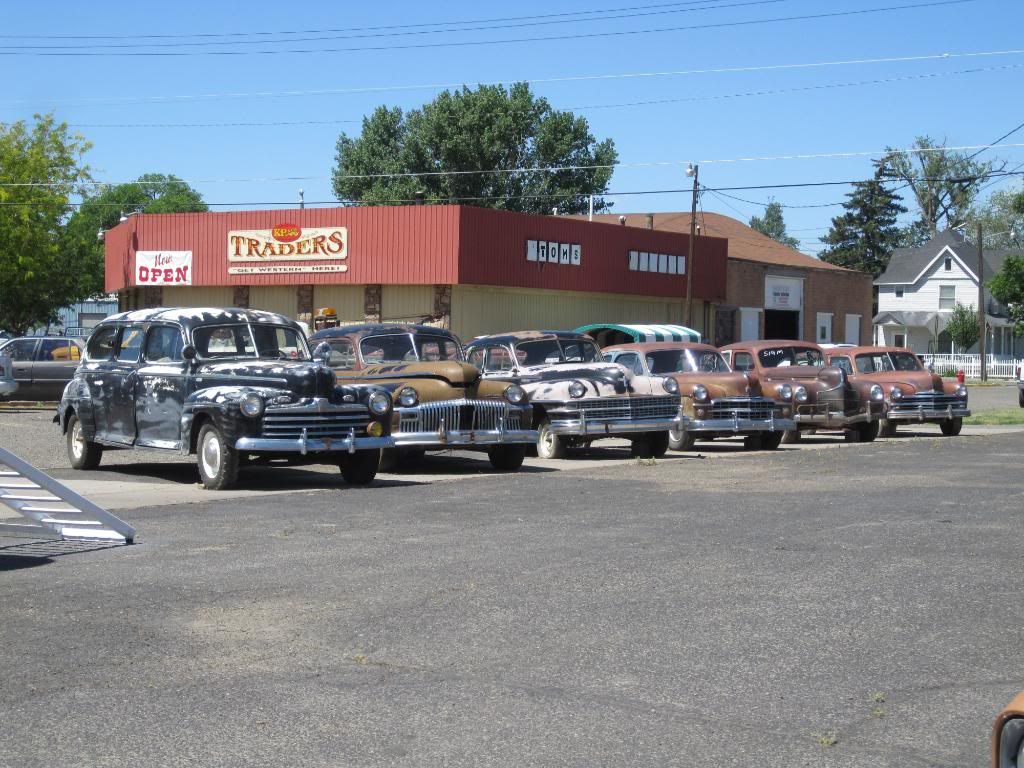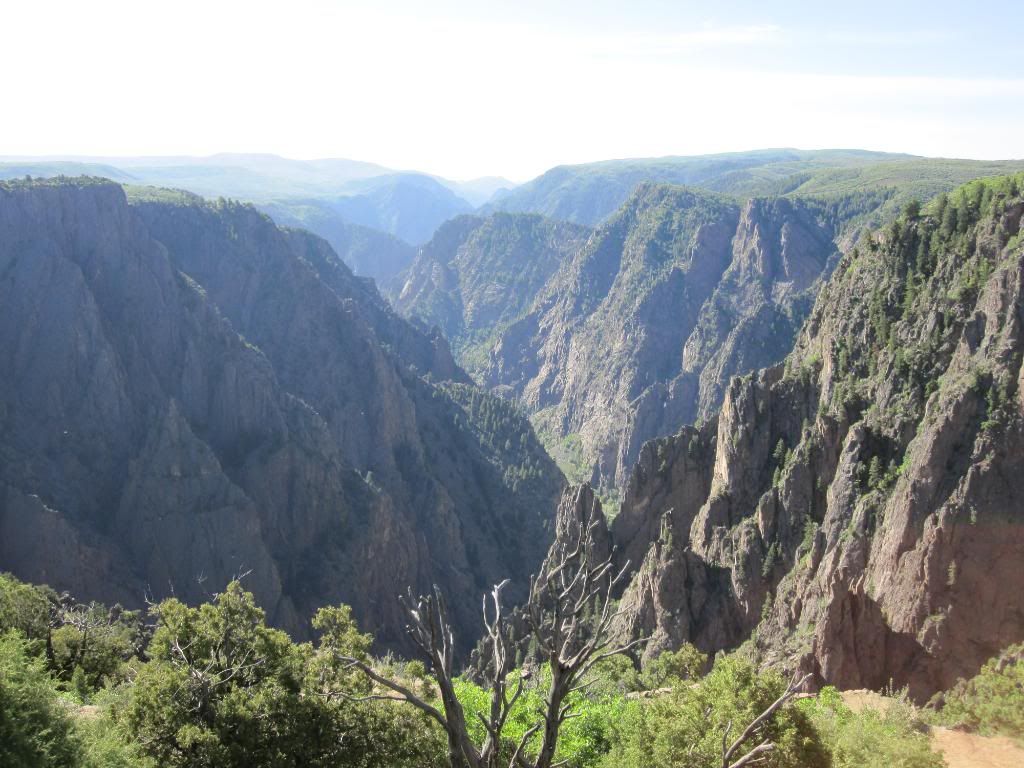 After waking up from the sunrise on my face, I loaded up the bike & rolled on westward on rt 50. The riding was absolutely amazing. The views from the road through Curecanti were some of the best yet. I was planning on hitting the black canyon of the gunnison and colorado national monument park on this day. When I got some food at Monarch pass the day before, the lady at the counter chatted me up a bit & told me I had to go check out the black canyon. This, in my opinion is the best way to travel. No plan, no route in particular, just a general direction and willingness to ride all day for days. Rolling solo, I think people are more into talking to you. Especially when they see the NJ plate and you're nowhere near NJ anymore.


I stopped at a sweet country diner & took a restroom sink bath before I sat down & had a bitchin' breakfast. Good thing because this was one of the most epic days of riding I've ever had. After I ate, I rolled on up to the black canyon national park. It was all sorts of awesome twisties that rode along the ridge of the canyon. I stopped at one point to hike a trail to a viewpoint & when I shut the bike off, I heard this crazy sound. It was coming from the bushes. I took a closer look & saw all these strange little locust looking bugs that would click. Since there were thousands of them, it actually sounded like those rain stick things you used to find in those hippy stores. I hiked down to the edge & saw these amazing tiny black birds that looked like mini stealth fighter jets. They looked like they were all just having a blast flying as fast as they could. They would swoop through the canyon & they were banking & swooping all over, so fast that you could hear their wings cutting the air.



After the bugs & birds, I cruised on through the rest of the park & back down to 50, heading west. I rode through some little downtown areas here & there but stumbled across this killer car lot that had all sorts of 40s & early 50s cars for sale. These werent all done & prettied up but were being sold as project cars. I know the southwest is the perfect place for finding a nice rust free project but to find a dealership full of them was really far out. I jammed northwestard heading toward monument park and found the area becoming a bit more developed & was wondering if I was in the right area or not. My map said I was so I charged on.



I found the entrance to the park & man was I blown away as soon as I started riding up into it. The road just went up & curved with these super hard uphill hairpin turns & then through the mountains with these tunnels carved right through the rock. I couldnt even manage to get a great pic of the entrance road but the one shot shows the road doubling back. That was just a small sample of how killer the riding was, let alone the scenery. It just seemed to go on forever, twisting & rolling & amazing views of red cliffs all over. I found a spot called fallen rock & hiked down. I found myself just totally tripped out on my location & it was just dead slient other than the wind whipping through the low lying brush. The sun felt great & I just laid back & took a sweet nap on the warm smooth rock. I am a big fan of random naps. I woke up to what I thought was a bee in my ear but looking closer at it, I realized it was a hummingbird. I think it was telling me I'd better get back on my bike because when I walked back there was another one checking out my bags. I cruised on feeling real good about my dual sport bridgestones in the twisties. I wore any chicken strips off them way early on the run so they were nice & scrubbed in. The scram actually goes through the corners quite nicely since I upgraded the suspension. With the new floating front brake, I could brake hard before the corners & roll on the throttle through each turn. After so many miles on the bike, it just felt like an extension of me. Feels awesome being fully dialed & confident with your machine on all levels.



After all the killer riding in monument park, I headed south along the utah-colorado border. I was a bit bummed about missing moab & arches park but I'm saving utah for another run. I still had more to see in colorado. I was heading toward the southwest corner so I could see the cliff dwellings at mesa verde the following morning. The ride proved to be continuously amazing. Colorado doesnt quit with the awesomeness. What a beautful place. I went down through another serious mountain range near Telluride & crossed some serious elevations again at Lizard head pass. It was dinner time so I managed to find a killer burger joint just north of cortez. They had some picnic tables out on the porch to eat outside while enjoying the late day sun. I sat down with my dinner and my maps & yet another roadside prophet joined me. This fast talker dude who was pretty nice & really knew the area. Wouldnt you know it - the dude was originally from jersey? I go on so many trips & meet people from jersey. I guess that tells you something, huh - People are just itching to get the hell out of here. After chatting with the one dude for a bit, a couple showed up on a bike & we all bullshitted for a bit. Talking bikes & traveling.



I headed down to cortez & found a KOA. (kampground of america). This was by far, my least favorite campground. It was clean & had hot showers & all but man it was packed. The campsites are on top of one another. There was some kook next to me camping with what I guess were his kids but the motherfucker kept staring at me. I said 'HEY! HOW ARE YOU?!' and the kook just barely nodded. Then I jumped in the shower & was in there for about 5 minutes and someone came in who sounded like the president of the local mickey mouse club ' hey, come on guys! hurry up! theres people waiting out here!' I felt like jumping out all wet & naked & kicking his face in. I just had the most epic day of riding ever and just paid more for a camp site than I did for a hotel & this asshole is hollering at me. So aside from the shitty KOA experience, I did actually get a good nights rest & got up early & headed east to Mesa Verde.


(To be continued...)


See part one for the link to all the photos.